Aruba in the West Indies is the most westerly island of the Leeward group of the Netherlands Antilles in the Caribbean Sea. Since 01st Jan 1986 it has been separated from Netherlands Antilles group of Islands. Lying due north of Caracas, Venezuela, it is a tropical island that is cooled by trade winds and situated out of the path of hurricanes. Because of the trade winds, Aruba is pleasantly balmy, and the residents do not need screens on their windows; friendly breezes blow the insects out to sea. Sparkling white sand beaches are surrounded by seas that constantly shift from blues to greens.
With such an amiable climate and such beauty, it was inevitable that Aruba would become an important resort island. Added to the natural setting are the attraction of its warm, friendly people who speak a variety of languages; Dutch, English, Spanish and a local language known as Papiamentro are mingled with the many tongues spoken by foreign visitors.
Until the late 1950s, cruise ships brought in most visitors, who stayed for only a day. But when the Aruba Caribbean Hotel and Casino opened in 1959, travelers began staying over. When the airport was expanded in 1964 to accommodate large jet aircrafts, their number increased still more dramatically.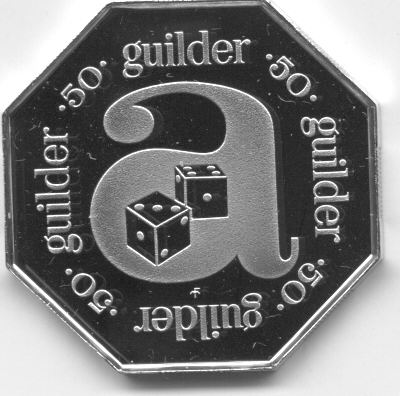 At the Aruba Caribbean Hotel Casino, craps, blackjack, roulette, slot machines and a wheel of fortune are offered in air-conditioned surroundings on the main level of the hotel. The casino's official gaming coin is an unusual, eight-sided one identifying the casino and hotel and minted in the denomination of 50 guilders, reflecting the island's Dutch heritage. Mining in unusual shapes is hardly a novelty to the Dutch; square Dutch nickels circulate on the island. Like all Aruba casinos, the Aruba Caribbean Hotel Casino is under strict government supervision.
The hotel has 200 air-conditioned guest rooms, each with a private balcony overlooking the Caribbean. An Olympic-size swimming pool, shops tennis courts, professional entertainment and a splendid beach, where guests can scuba dive, sail and fish, provide relaxation away from the casino. Sightseeing is a particularly, exciting pastime on Aruba, and when the day's adventures are over, the island provide an equally adventurous cuisine, with fine restaurants serving the ethnic cookery of many foreign nations.