One of the newest, most spectacular hotels in Monaco is SBM / Loews Monte-Carlo, site of the only in-hotel casino on the Riviera. The largest hotel complex on the French Riviera, Loews Monte-Carlo, with its 650 guest rooms, rises from the blue waters of the Mediterranean close to the center of the principality of Monaco. Nearby, in a sparkling setting of sea and mountains, beautiful beaches and exotic gardens is the glamorous royal palace - home of Prince Rainier and Princess Grace. And at night the sophisticated international set enjoys opera, ballet, concerts, nightclubs and, of course, the glittering SBM / Loews Monte-Carlo Casino.

The casino, which celebrated its third anniversary in 1978, is operated in association with the prestigious Société des Bains de Mer. The atmosphere of the 13,000 square foot casino is relaxed but elegant, in keeping with the fact that this is the only casino on the Riviera offering American games exclusively. In order that the staff would have the required expertise in these games, several contingents of Monegasque croupiers were sent to Las Vegas, Nevada for eight-week training sessions consisting, at least in part, of lessons in the chip-stacking, stick work and the uniquely American terminology. These schoolings sessions represented the first time that croupiers had ever been sent from the famed gambling city of Monte Carlo to the United States for a training program.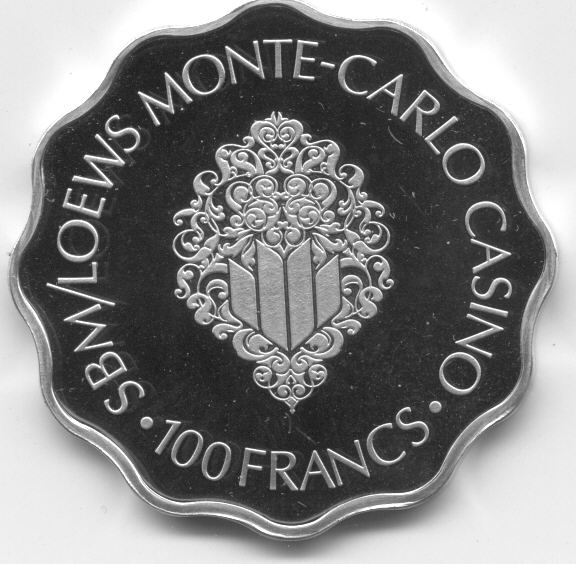 SBM / Loews Monte-Carlo offers five games of chance - American-style roulette, 21, craps, slot machines and wheel of fortune.

When not trying their luck at the tables or slot machines, guests enjoy the ambience of international restaurants within the hotel complex, such as L'Argentin with its South American setting and the romantic music of strolling guitarists. Or they may be attracted to the evocative and nostalgic Russian decor of the Folie Russe - an elegant nightspot with a dazzling floorshow and gourmet cuisine.

The precious metal gaming coin of the SBM / Loews Monte-Carlo has a face value of 100 francs and bears the identifying crest of the casino. On the reverse side, engraved likenesses of antique playing cards representing each of the four suits are portrayed.