The West ends and the East begins in Istanbul, the ancient, one-time capital city of Turkey. Once known as Byzantium, and later as Constantinople, Istanbul was first settled before the birth of Christ. Located on the narrow, 17-mile-long straits of the Bosporus, it was once the seat of the Ottoman Empire. The straits of the Bosporus connect the Sea of Marmora and the Black Sea.
Istanbul is rich in history, having been founded in the seventh century before the Christian era by a Greek navigator named Byzas. Over the centuries, it has often been a battleground, not only for physical possession of the city and its riches, but also for men's religious beliefs. Before 478 B.C. Darius, king of Persia, took the town. Again, in 1453, the town was taken, this time by Mehmet II, a Turk, who defeated the emperor Constantine XI Dragases. It was he who brought the symbolic crescent moon and star to the city. Under his occupation, many of Istanbul's churches became mosques.
The most popular sightseeing attraction is Istanbul are the Mosque of Sultan Ahmed (also known as the Blue Mosque), the Topkapi Palace and the Archaeological Museum. Other Istanbul sights that are popular with visitors are the Hippodrome and the covered bazaar.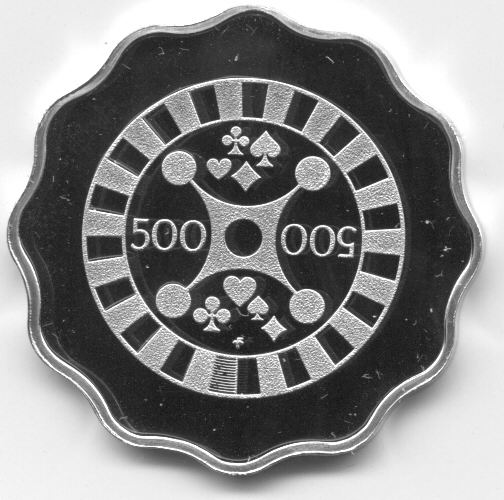 In a city, noted for its glamorous international night life, the Casino Istanbul Hilton is outstanding. The hotel itself boasts some 417 rooms or suites, a swimming pool, several restaurants and a nightclub. But the most exciting facility at the Istanbul Hilton Hotel is its Casino. Here, roulette and blackjack are playing from eight o'clock daily, while slot machines play begin at four o'clock in the afternoon.

The Casino Istanbul Hilton's gambling token is circular, and on its obverse the identification Casino Istanbul Hilton appears, together with a small design element resembling a roulette wheel. On its reverse, inside a stylized wheel design, are symbol representing the four playing card suits.

An independent republic since 1923, Turkey has become increasingly westernized. Today, the Roman alphabet is used in place of Arabic, and Muslim family names in place of Arabic have dropped in favor of Western ones. The Gregorian calendar and Western measuring standards are also used.