| | |
| --- | --- |
| | |
USA Coinage: 1889 - 1892
under President: Benjamin Harrison
Benjamin Harrison (August 20, 1833 – March 13, 1901) was an American politician and lawyer who served as the 23rd President of the United States from March 04, 1889 to March 04, 1893; he was the grandson of the ninth president, William Henry Harrison, creating the only grandfather-grandson duo to hold the office. Before ascending to the presidency, Harrison established himself as a prominent local attorney, Presbyterian church leader, and politician in Indianapolis, Indiana. During the American Civil War, he served in the Union Army as a colonel, and was confirmed by the U.S. Senate as a brevet brigadier general of volunteers in 1865. Harrison unsuccessfully ran for governor of Indiana in 1876. The Indiana General Assembly elected Harrison to a six-year term in the U.S. Senate, where he served from March 04, 1881 to March 03, 1887.
The initial favorite for the Republican nomination was the previous nominee, James G. Blaine of Maine. After Blaine wrote several letters denying any interest in the nomination, his supporters divided among other candidates, with John Sherman of Ohio as the leader among them. Others, including Chauncey Depew of New York, Russell Alger of Michigan, and Harrison's old nemesis Walter Q. Gresham, now a federal appellate court judge in Chicago, also sought the delegates' support at the 1888 Republican National Convention. Blaine did not publicly endorse any of the candidates as a successor; however, on March 1, 1888 he privately wrote that "the one man remaining who in my judgment can make the best one is Benjamin Harrison." Harrison placed fifth on the first ballot, with Sherman in the lead, and the next few ballots showed little change. The Blaine supporters shifted their support among candidates they found acceptable, and when they shifted to Harrison, they found a candidate who could attract the votes of many other delegations. He was nominated as the party's presidential candidate on the eighth ballot, by a count of 544 to 108 votes. Levi Parsons Morton of New York was chosen as his running mate.
The United States presidential election of 1888 was the 26th quadrennial presidential election, held on Tuesday, November 06, 1888. It saw Grover Cleveland of New York, the incumbent president and a Democrat, try to secure a second term against the Republican nominee Benjamin Harrison, a former U.S. Senator from Indiana. The economy was prosperous and the nation was at peace, but Cleveland lost re-election in the Electoral College, even though he won a plurality of the popular vote by a narrow margin (48.6% against 47.8%). Harrison was sworn into office on Monday, March 04, 1889 by Chief Justice Melville Fuller. His speech was brief – half as long as that of his grandfather, William Henry Harrison, whose speech holds the record for the longest inaugural address of a U.S. president.
In 1889, the United States, the United Kingdom and the German Empire were locked in a dispute over control of the Samoan Islands. Historian George H. Ryden's research indicates Harrison played a key role in determining the status of this Pacific outpost by taking a firm stand on every aspect of Samoa conference negotiations; this included selection of the local ruler, refusal to allow an indemnity for Germany, as well as the establishment of a three power protectorate, a first for the U.S.. These arrangements facilitated the future dominant power of the U.S. in the Pacific; Secretary of State Blaine was absent due to complication of lumbago.
Throughout the 1880s various European countries had imposed a ban on importation of United States pork out of an unconfirmed concern of trichinosis; at issue was over one billion pounds of pork products with a value of $80 million (annually). Harrison engaged Whitelaw Reid, minister to France, and William Walter Phelps, minister to Germany, to restore these exports for the country without delay. Harrison also successfully asked the congress to enact the Meat Inspection Act to eliminate the accusations of product compromise.
The first international crisis Harrison faced arose from disputed fishing rights on the Alaskan coast. Canada claimed fishing and sealing rights around many of the Aleutian Islands, in violation of U.S. law. As a result, the United States Navy seized several Canadian ships. In 1891, the administration began negotiations with the British that would eventually lead to a compromise over fishing rights after international arbitration, with the British government paying compensation in 1898.
In 1891, a diplomatic crisis emerged in Chile, otherwise known as the Baltimore Crisis. The American minister to Chile, Patrick Egan, granted asylum to Chileans who were seeking refuge during the 1891 Chilean Civil War. Egan, previously a militant Irish immigrant to the U.S., was motivated by a personal desire to thwart Great Britain's influence in Chile; his action increased tensions between Chile and the United States, which began in the early 1880s when Secretary Blaine had alienated the Chileans in the War of the Pacific. The crisis began in earnest when sailors from the USS Baltimore took shore leave in Valparaiso and a fight ensued, resulting in the deaths of two American sailors and the arrest of three dozen others. Tensions increased to the brink of war – Harrison threatened to break off diplomatic relations unless the United States received a suitable apology, and said the situation required, "grave and patriotic consideration". The president also remarked, "If the dignity as well as the prestige and influence of the United States are not to be wholly sacrificed, we must protect those who in foreign ports display the flag or wear the colors." The Navy was also placed on a high level of preparedness. A recuperated Blaine made brief conciliatory overtures to the Chilean government which had no support in the administration; he then reversed course, joined the chorus for unconditional concessions and apology by the Chileans, who ultimately obliged, and war was averted. Theodore Roosevelt later applauded Harrison for his use of the "big stick" in the matter.
In the last days of his administration, Harrison dealt with the issue of Hawaiian annexation. Following a coup d'état against Queen Liliuokalani, the new government of Hawaii led by Sanford Dole petitioned for annexation by the United States. Harrison was interested in expanding American influence in Hawaii and in establishing a naval base at Pearl Harbor but had not previously expressed an opinion on annexing the islands. The United States consul in Hawaii John L. Stevens recognized the new government on February 01, 1893 and forwarded their proposals to Washington. With just one month left before leaving office, the administration signed a treaty on February 14 and submitted it to the Senate the next day with Harrison's recommendation. The Senate failed to act, and President Cleveland withdrew the treaty shortly after taking office.
Six new states were admitted to the Union while Harrison was in office: North Dakota (November 02, 1889), South Dakota (November 02, 1889), Montana (November 08, 1889), Washington (November 11, 1889), Idaho (July 03, 1890) and Wyoming (July 10, 1890). More states were admitted during Harrison's presidency than any other.
The United States presidential election of 1892 was the 27th quadrennial presidential election, held on Tuesday, November 08, 1892. It witnessed a re-match of the closely contested presidential election in 1888. Former Democratic President Grover Cleveland and incumbent Republican President Benjamin Harrison both ran for election to a second term. In 1888, Cleveland won the popular vote over Harrison, but lost in the electoral college. In a re-match, Cleveland won both the popular and electoral vote, thus becoming the first and to date only person in American history to be elected to a second, non-consecutive presidential term. The new Populist Party, headed by James Baird Weaver formed by groups from The Grange, the Farmers' Alliances, and the Knights of Labor, also fielded a ticket; they polled best in the West, winning in five states and taking a total of 22 electoral votes.
Harrison developed what was thought to be influenza (then referred to as grippe) in February 1901. He was treated with steam vapor inhalation and oxygen, but his condition worsened. He died from pneumonia at his home in Indianapolis on Wednesday, March 13, 1901, at the age of 67. Harrison's remains are interred in Indianapolis's Crown Hill Cemetery, next to the remains of his first wife, Caroline. After her death in 1948, Mary Dimmick Harrison, his second wife, was buried beside him.
Currency: Dollar = 100 cents
Monetary System: Penny = Cent, Trime = 3 Cents, Nickel = 5 Cents, Dime = 10 Cents, Quarter = 25 Cents, Half Dollar = 50, Cents, Dollar = 100 Cents, Quarter Eagle = $2.50 Gold, Stella = $4.00 Gold, Half Eagle = $5.00 Gold, Eagle = $10.00 Gold and Double Eagle = $20.00 Gold.
Mint Marks:
C – Charlotte, N.C., 1838-1861.
CC – Carson City, NV, 1870-1893.
D – Dahlonega, GA, 1838-1861.
D – Denver, CO, 1906-present.
O – New Orleans, LA, 1838-1909.
P – Philadelphia, PA, 1793-present (coins without mintmark also belongs to Philadelphia).
S – San Francisco, CA, 1854-present.
W – West Point, NY, 1984-present.
1889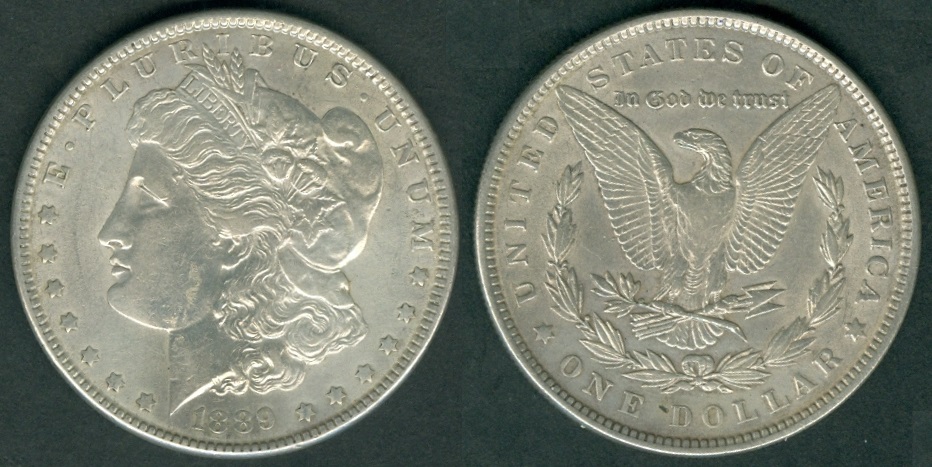 KM#110 One Dollar. Year: 1889. Weight: 26.68 g [26.73 g]. Metal: 0.900 Silver. Diameter: 38.10 mm. Edge: Reeded. Alignment: Coin. Mint: Philadelphia, USA. Obverse: "E • PLURIBUS • UNUM" written at the top section. Head of Liberty facing left in the center. 7 stars at the lower left side and 6 stars at the lower right side. Date at the bottom. Reverse: "UNITED STATES OF AMERICA" written at the top section. Motto: "IN GOD WE TRUST" written above the Eagle's head. Eagle with opened wings, looking left, holding arrows and olive branch, within wreath in the center. Value "* ONE DOLLAR *" written at bottom section. Mintage: 21,726,811. Mintage Years: [see under 1878 issue]. Engraver: George Thomas Morgan (both sides). No mint mark above "DO" in "DOLLAR. belongs to Philadelphia. This coin is commonly known by coin collectors as "Morgan Dollar".
1892
KM#114 Quarter Dollar (25 cents). Year: 1892 (Type I). Weight: 6.23 g [6.25 g]. Metal: 0.900 Silver. Diameter: 24.30 mm. Edge: Reeded. Alignment: Coin. Mint: Philadelphia, USA. Obverse: "IN GOD WE TRUST" written at the top. Head of Liberty facing right in the center. 6 stars on the left and 7 stars on the right side. Date at the bottom. The designers initial (B) is at the base of Liberty's neck. No mint mark belongs to Philadelphia, USA.
Reverse: "UNITED STATES OF AMERICA" written at the top section. American Seal in the center with Eagle's wings spread having 13 stars above it. "E PLURIBUS UNUM" written on banner passing through eagle's mouth. Eagle's left foot is carrying a stem with 13 leaves and right foot carrying 13 arrows. "· QUARTER DOLLAR ·" written at the bottom section. Mintage: 8,237,245. Mintage Years: 11892, 1892 Type 2 Rev, 1892O, 1892O Type 2 Rev, 1892S, 1892S Type 2 Rev, 1893, 1893O, 1893O mintmark far right, 1893S, 1893S MM far right, 1894, 1894O, 1894O mintmark far right, 1894S, 1894S MM far right, 1895, 1895O, 1895O mintmark far right, 1895S, 1895S mintmark far right, 1896, 1896O, 1896S, 1897, 1897O, 1897S, 1898, 1898O, 1898S, 1899, 1899O, 1899S, 1900, 1900O, 1900S, 1901, 1901O, 1901S, 1902, 1902O, 1902S, 1903, 1903O, 1903S, 1904, 1904O, 1905, 1905O, 1905S, 1906, 1906D, 1906O, 1907, 1907D, 1907O, 1907S, 1908, 1908D, 1908O, 1908S, 1909, 1909D, 1909O, 1909S, 1910, 1910D, 1911, 1911D, 1911S, 1912, 1912S, 1913, 1913D, 1913S, 1914, 1914D, 1914S, 1915, 1915D, 1915S, 1916, 1916D and 1916D/D. Engraver: Charles Edward Barber (both sides).
Type I on the left side and Type II on the right side.

Note: This coin is commonly known by coin collectors as "Barber Quarter Dollar". The mint mark "D", "O" or "S" is written below the tail of the Eagle and above second "R" in "QUARTER". 13 stars on each side of the coin, representing the first 13 colonies/states of the United States of America. When the first Barber quarters were struck in January of 1892, it was discovered that the coins wouldn't stack properly. This problem was resolved by altering the relief and design elements. Thus, there are two types of 1892 quarters. The easiest way to identify them is by the reverse. On Type I, the eagle's left wing crosses the letter E in UNITED below the middle serif, leaving most of the letter exposed. With the Type II quarters, the eagle's wing covers most of letter E, and the middle serif is hidden. There is also a third type, introduced during 1900, with the eagle's wing extending beyond the top of the E. The series has no major rarities, though 1901-S is a challenge even in low grades. There are two other "keys"; 1896-S and 1913-S, but even these are obtainable at a price. Almost 265 million pieces were minted between 1892 and 1916 at all three mints. Proofs were minted every year except 1916 and totaled more than 17,000. "Type" collectors particularly favor the 1892 date, as it was the first year of issue, and 1909-O, as it was the last issue from the New Orleans Mint.
View below links on coins issued during the Presidential rulers of United States:
Countries / Territories
Chiefa Coins